---

---
[STAFF] [INSTRUMENTS] [DATA REDUCTION]
---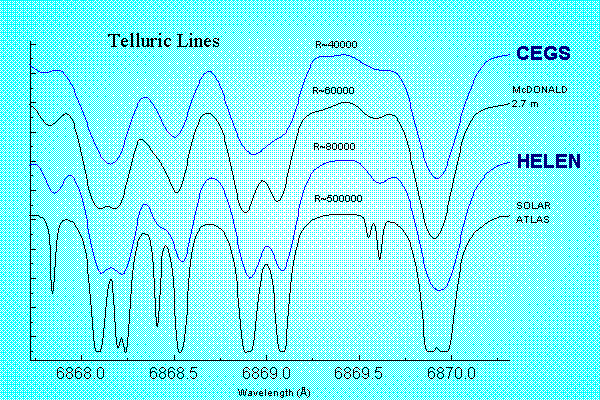 Coude Laboratory is a department of Special Astrophysical Observatory of Russian AS. On the coude focus of 1-m (Zeiss-1000) telescope have installed two echelle spectrometers: CEGS and HELEN. Both spectrometers have been designed by Musaev F.A. and oriented for spectroscopy of relatively bright stars with different spectral resolution. CCD matrixes are used:
520x580 front illuminated, pixel size 18x24 mkm
1242x1152 front illuminted, pixel size 22.5x22.5 mkm (the property of Institute of Astronomy of Nicolas Copernicus University (Torun, Poland))

Our reduction of the echelle spectra made using the DECH code (Galazutdinov G.A.). This program package allows flat-field division, bias/background subtraction, one-dimensional spectrum extraction from the 2-dimensional images, correction for the diffuse light, spectrum addition, excision of cosmic ray features, etc. The DECH code also allows location of a fiducial continuum, measurements of the line equivalent widths, line positions and shifts, etc.
Staff
---
Instruments
ECHELLE SPECTROMETER CEGS
ECHELLE SPECTROMETER HELEN
spectral resolution R~80000,
ECHELLE SPECTROMETER MAESTRO designed by Musaev F.A. and installed on the coude focus of 2-m telescope on peak Terskol (3100m, Northern Caucasus). Spectrometer has 3 observational modes: R = 190 000, R = 80 000, R = 45 000.
---
Data Reduction
We process the spectral data (CCD images and extracted spectra) using especially written program package DECH